Meet Dr. Frankart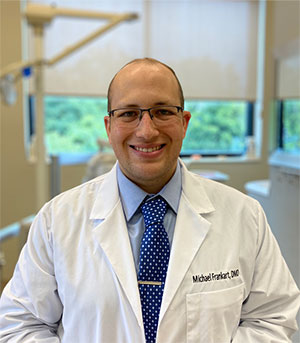 Dr. Frankart was born in Cincinnati, OH and raised in Anderson Township. He earned a degree with honors in Biology at the University of Louisville where he was Brown Fellows Scholar and also awarded status as a Kentucky Colonel for service to and representation of the Commonwealth of Kentucky. During his undergraduate education, Dr. Frankart also spent two summers at Interfaith Dental Clinic in Nashville, TN, a non-profit clinic devoted to providing care to those who otherwise did not have access to care.
Upon completing his undergraduate education, Dr. Frankart attended the University of Louisville School of Dentistry and graduated with a DMD degree. While in dental school, Dr. Frankart enjoyed interacting with his patients, developing strong clinical skills, and working with organizations and actively providing care to underserved populations.
Dr. Frankart is a member of the American Dental Association, the Academy of General Dentistry, the Kentucky Dental Association, and the Northern Kentucky Dental Society. He has had the opportunity to attend dental conferences in Louisville, KY; Nashville, TN; and Vancouver, BC, Canada and is committed to staying abreast of best practices in the dental profession.
Dr. Frankart is excited to be back in the Northern Kentucky/Cincinnati area! In his free time, he enjoys spending time with his family, exploring the local restaurants, cooking, playing sports, and rooting for his favorite teams.
Along with a talented, caring team, Dr. Frankart looks forward to nurturing ongoing relationships and providing exceptional care for his patients!